WIC Food Highlight- Yogurt
WIC is a supplemental nutrition program for Women, Infants, and Children that provides funding for supplemental food, health care referrals, and nutrition education for low-income pregnant and postpartum women, and for infants and children up to age five who are found to be at nutritional risk.
Although WIC is a helpful program, some of the food choices it offers can seem limited.  However, one WIC approved choice, yogurt, has some purposes beyond its initial first impression as an over-eaten snack.  Read on for some tips on how WIC funded yogurt can economically spice up your daily menu.
Yogurt Pancakes:  Add some protein and a nutritious kick to your pancakes with this fast and easy recipe found at https://www.allrecipes.com/recipe/244286/greek-yogurt-pancakes/. These pancakes are simple to prepare and the batter can be made ahead of time and used the next day.  Armed with only a frying pan and a spatula, a quick and easy meal is only a few minutes away. Uneaten pancakes can be frozen.
Shake it Up:  Although drinkable yogurt isn't WIC funded, you can use regular yogurt to make a smoothie. WIC allowed milk and frozen fruit can be tossed in a blender with the yogurt for a calcium-rich, on-the go meal for moms and their little ones.
Yogurt Pizza Dough:  This fan favorite can be easily made from scratch with primarily WIC eligible ingredients. Yogurt mixed with self-rising flour (not allowed on WIC, but typically under $2) makes a hearty pizza crust. WIC allowed plain crushed tomatoes, mozzarella, and peppers combine to make a delicious homemade healthy pizza.  Get the recipe at https://www.allrecipes.com/recipe/244447/two-ingredient-pizza-dough/.
When you are looking for budget-friendly ways to cook, it's a good idea to talk with professionals and educated individuals.  If you need someone in your corner, someone who you can help you, reach out to your lactation consultant, pediatrician, or the hospital you delivered at.  Please visit stgiannasplace.org for more information about support for homeless pregnant women and their babies.
Vocation Station- 3 careers that require 2 years of education or less
Caring for a young family and working outside of the home is a challenge, especially if you don't have the training and education to find a job that provides flexibility and good pay.  Below are 3 careers that require less than two years of education, offer traditional or flexible hours, and pay well.
Servicing heating and air conditioning systems:  A career in HVAC requires formal training at a technical college, trade school, or community college, but often times service companies will hire employees while they are attending classes.  Curriculums range from 6 months to two years, and classes are available during the day, evening, and on weekends, allowing for flexibility in your schedule.  Upon completion of an educational program, you will become a paid apprentice and you will work full time.  Apprenticeships last between 3 and 5 years and may require additional class work.  HVAC technicians work traditional hours, so finding good daycare isn't a problem, and the median salary for this career is just over $40,000 annually.  Financial aid and grants are available, and often employers pay partial or full tuition so their employees can advance.
Dental Hygienist:  If you're science-minded and good with people, a career as a dental hygienist can provide a very secure future for you and your family.  Hygienists clean teeth, take mouth X-rays, and check for diseases of the mouth, tongue, and gums.  It's also a very social job because you will interact with patients all day.  A degree in dental hygiene will take two years to complete and financial aid is available.  The median income for a dental hygienist is just under $75,000 annually. Job prospects are very good in this career because so many current hygienists are approaching retirement age.  Additionally, because many dental practices now offer evening appointments, your work schedule can offer flexibility.  Visit https://explorehealthcareers.org/career/dentistry/dental-hygienist/to learn more.
Web Design:  If you have good computer and language skills, web design might be a great career opportunity.  Classes in web design are available on-line, through local training seminars, and at community colleges.  Kahn Academy https://www.khanacademy.org/computing/computer-programming/html-css, EdX https://www.edx.org/, and Coursera https://www.coursera.org/courses?query=web%20developmentoffer on-line training that allow a self-motivated student to work at their own pace and nearly for free.  If you can motivate yourself to learn and create a portfolio, you could become a freelance web designer earning a great income in just a few months and for little to no cost.
Finding a career that supports a child can feel like an endless journey, but you do have options. Trade schools, community colleges, and on-line courses offer reasonably priced educational opportunities that can lead to fulfilling and profitable careers.
Visit our website at stgiannasplace.org for more information about programs to help pregnant women in crisis and their babies.
Staying Warm This Winter: Heating Assistance
Living in New Hampshire brings economic challenges when the weather turns cold. Heating bills in this part of the country are an overwhelming expense.  But, being prepared is a big part of making sure that the colder weather doesn't get the best of your family budget.  Properly winterizing your home is an important process that can help you control and manage heating costs.  Simple steps like replacing the filter on your furnace, or making sure that heating vents aren't blocked by furniture, can reduce your oil or gas consumption and keep your home warmer.  Follow this link for a complete list of suggestions for heating your home more cost-effectively.  https://www.nh.gov/osi/energy/programs/fuel-assistance/documents/fap-wap-brochure.pdf.
Additionally, there are programs available that will provide cash or direct payments for your heating costs.  One such program that can help with heating assistance is "LIHEAP" which is an income-based program.  Refer to the chart provided via this link to see if your family qualifies.  https://www.snhs.org/programs/energy-programs/low-income-home-energy
If you're heating with oil, another option is to reach out directly to your heating oil provider.  Many companies offer payment plans and options for assistance. Most want to work with you, especially if you've been a loyal customer.
If you're a mother in need, or if you wish to help mothers and their children who face these challenges, please contact us at (603) 521-8440.
Not Love at First Sight?  It's Ok.
"That first look and I knew she was my world."
Some new mothers feel this way when they meet their babies, but you didn't.  You're not depressed and you're not experiencing anxiety, but you don't feel as if your baby is your world.  This might make you feel like you're a bad mother, or that something is wrong with you, but in all likelihood, probably neither is the case.
Relationships develop over time. A study on friendship https://www.today.com/health/how-long-does-it-take-make-friend-friendship-advice-t126538 indicates that strong friendships are built over 200 hours.  A newborn is only awake and alert for a few hours each day, meaning that the bond between you and your baby could take weeks to grow. It's also completely normal for feelings of affection to come on gradually. Every relationship you have is different, and the one with your child is no exception.
If you're worried about the development of the relationship between you and your child, speak with your doctor. It may also help to keep a journal or find another way to document the early weeks and months of your newborn's life. Meet with or call other moms that you know and trust, especially moms with older or grown children, and talk with them about how you feel. If you ever feel hopeless, reach out immediately.As a new mom, it's always good to talk to professionals and individuals educated in child-care and development.  If you need someone in your corner, someone who you can help you, reach out to your lactation consultant, pediatrician, or the hospital where you delivered.  If you want to ensure that homeless pregnant mothers are able to receive this support, please see our website to learn more about how you can help.
Beyond the (Corned) Beef: Celebrating St. Patrick

Shortly after St. Valentine's Day, decorations of green shamrocks and leprechauns, dinners featuring corned beef and cabbage, and local parades signal the celebration of another saint, St. Patrick. As a society, we celebrate St. Patrick's Day with gusto, giving Patrick quite a bit more attention than other saints.
Although his feast day has become synonymous with parties, St. Patrick is actually a much better example for kids than the aforementioned indicates.  His story is compelling and his work important.
Patrick was a stubborn, angry 16-year-old when he was captured into slavery and taken from his homeland of Scotland to Ireland.  Despite having a father who worked in the Church and an uncle who was a priest, Patrick had previously wanted nothing to do with the religion in which he was raised.  However, during his 6 years in Ireland, he longed for his homeland.  He began fasting and praying.  While tending sheep, he decided to return to the faith in which he was raised.
When Patrick finally got back to Scotland he lived a simple life, becoming a priest and looking to fill the needs of others.   He also prayed for his Irish captors. Patrick eventually returned to Scotland to convert the man to whom he had been a slave, as well as the other chiefs of the village. During his years as a slave, he had learned how powerful people could change beliefs, and he used these leaders to help convert Ireland to Christianity.
So how can your family celebrate St. Patrick's in a more meaningful way than just having a party or attending a parade?  Children want to know that their feelings and experiences are valid.  Ask them to pick someone who annoys them the most and pray for that person sincerely for 6 days, representing Patrick's 6 years of praying for his captors.  Just like Patrick, encourage them to approach that person afresh after that time so they may also experience a new friendship, with Christ at the center.
Learning about saints is a great way to give young children role models to look up to.  Building families is part of the mission at  St. Gianna's Place,  and we'd love your help in supporting pregnant women in crisis.
Diaper Rash Woes  
Raw, angry red marks on the sensitive skin of your little one can be quite frightening.  The immediate feeling is to head to the doctor to ensure that it's taken care of right away. The other impulse might be be to Google–which can lead you down a road of frightening photos and armchair diagnoses.
Looking at on-line sources can help you decide if you should trust the information that you find.  For instance, while Desitin has a vested interest in selling diaper cream, their website offers a quick visual guide to compare what's going on with your little one to a reference picture.
The first line of treatment is always gentle care, frequent diaper changes, keeping the area clean, and even a bit of time going au naturel to air out the angry area.  If your little one does need a bit of time to air out, make sure to put a fresh towel under them to keep their sensitive areas clean.
When it comes to making judgment calls, it's always good to reach out and talk to professionals and educated individuals.  If you need someone in your corner, someone who you can help you, reach out to your lactation consultant, pediatrician, or the hospital you delivered at.  If you want to ensure that homeless pregnant mothers are able to receive this support, please see our website.
This blog is not sponsored by Desitin.
Reading Out Loud with Baby Provides Lasting Benefits
Babies are always listening.  Even when they are in the womb, babies lookout for language.  They want to know what's going on. Reading out loud with your baby can be beneficial for years to come.  It doesn't matter what is read to them; they learn from simply hearing the words spoken over and over.
In 2017 the American Academy Of Pediatrics produced a study that had staggering results.  It showed that reading to a child not only increased their overall vocabulary, but also showed measurable differences in early learning. The frequency of words read can teach a child nuances about language that enable them to succeed as they begin their formal education.  Babies and toddlers can benefit from all access to language. Read the cake recipe. Read the directions to medicine. Read your summer paperback. Just get reading and do it out loud.
And surprisingly, the benefits aren't all for the children!  Reading out loud can benefit the reader in more nuanced and lasting ways than on the first appearance.  In a 2013 study, researchers found that adults also  benefited from reading out loud.  It increased retention and understanding, and reduced frustration surrounding comprehension. The slower pace also created a fuller access to long-term memory and increased overall enjoyment of leisure works, in addition to more overall confidence in navigating the world.
If you are pregnant or a new mother wondering how you can cope with your child, please reach out to your pediatrician.  If you're interested in reading, your local library may have programs that begin at birth. If you're interested in helping homeless mothers and new babies bond, visit our website. We'd love to hear from you.
Deciding if You Need Formula

Before your baby is born, it's a good idea to sit down and talk about some important decisions.  One of these is how you will feed your baby. While it may be difficult to picture how life will look with a newborn or a young infant, making the decision beforehand can ensure that you follow through when times get tough.

Some mothers may run into the difficult decision that they must formula feed.  Many times this decision comes because of health reasons, either physical or mental, or because the baby must be cared for by someone other than yourself.   When you are able to have help or get a full night's sleep in those early days, formula can feel life-saving.

The American Pregnancy Wellness' website has a list of the pros and cons to examine.   One of the important points to note is that it often doesn't have to be all or nothing. Babies can thrive on either breastmilk or formula, or they can take a combination of both.  If you choose to do both, it's good to take special care of yourself to ensure breast health.

When it comes to making major decisions, it's always good to reach out and talk to professionals and educated individuals.  If you need someone in your corner, someone who you can help you, reach out to your lactation consultant, pediatrician, or the hospital you delivered at.  If you want to ensure that homeless pregnant mothers are able to receive this support please visit our website.
What is a Tongue-Tie?
"Peter Piper picked a peck of pickled peppers!"
Say that 10 times fast!
The term "tongue-tie" conjures up favorite playground pastimes of tongue twisters and watching friends and adults spit out garbled language as they stumbled over the words.  When you think that there may be something wrong with your sweet little baby it can be devastating.
According to the Mayo Clinic, https://www.mayoclinic.org/diseases-conditions/tongue-tie/symptoms-causes/syc-20378452 </link>, a tongue-tie is a short, thick band of tissue that ties the tongue to the bottom of the mouth.  If you're being told your child has a tongue-tie and needs an operation, it can feel overwhelming and impossible to comprehend.
Yet, this very simple procedure has many benefits.  The first has to do with breastfeeding. If your baby's latch is painful, it may be because they are struggling to hold their mouth the right way to be able to fully suck.  Rather than latch, they try to clamp and bite. Combined with the frequent feeding of a newborn, this can make any mother dread breastfeeding. The best course of action is to ask for your hospital's lactation consultant.  They are specially trained doctors, nurses, and midwives who can identify problems the baby may have and how to overcome these challenges. Sometimes, a general pediatrician may miss a tongue, lip or cheek tie because they do not specialize in this area.  But it's not just about breastfeeding.  A tie may affect speech, eating, and dental hygiene well into adulthood. Don't be afraid to speak up. You have mother's instinct for a reason.
Repairing a tie can take only moments and the benefits will last a lifetime.  Navigating parenthood, even early on, can be challenging. If you need someone in your corner, someone who you can help you, reach out to your lactation consultant, pediatrician, or dentist.  If you want to ensure that homeless pregnant mothers are able to receive this support, please visit our website at http://stgiannasplace.org.
October Blog
Community Outreach and Unintended Blessings
As many of you know, St. Gianna's Place hosted our first annual Baby Crawl 5K on October 6.  It was a fun, well-attended event and we raised a lot of money to help pregnant women in crisis and their babies.  It's easy to measure success in these terms.  After all, the Baby Crawl's primary purpose was to raise funds, and it did. We hoped it would be a fun-filled morning, and it was.  But, it might be other, less obvious benefits of the Baby Crawl that end up being the most important.  We hear a lot these days about unintended consequences, but the Baby Crawl delivered some unintended blessings.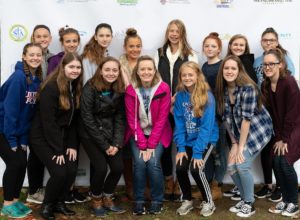 Whenever a group of people with a common goal work together, something beautiful happens.  And that has certainly been the case with St. Gianna's Place.  We are truly blessed to have many dedicated supporters and donors.  Your generosity and loyalty to our shared vision of a home for pregnant women in need is a gift from God.  But, to be as effective as possible, we need to release this vision beyond the boundaries of our common convictions.  The Baby Crawl allowed us to do this.  It gave us an opportunity to present our ministry to the community at large through an event that appealed to people from many different backgrounds and beliefs. People who were previously unaware of St. Gianna's Place were introduced to our ministry, and hopefully, through the Grace of God, also encountered Jesus.
We were humbled by the amount of teenagers from local schools and churches who donated their Saturday mornings to marshal the race route and manage activities for younger children.  We were grateful for the number of local business owners who donated their time and money to help us reach our fundraising goal.  And we were filled with joy by the support we received from our local community.
Raising money is necessary, but raising awareness and sharing our faith with all is the most important thing we can do.  God used the Baby Crawl to accomplish all of this, gifting us all with unintended blessings.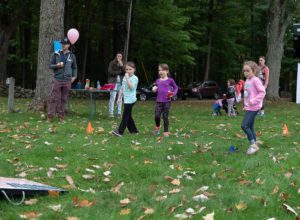 September Blog
September brings the beginning of a new school year, shorter daylight hours, and dropping outside temperatures.  The free and easy vibe of summer gives way to the structure of fall routines.  As our calendars fill up with homework assignments, appointments, practices, and meetings, we rely more on the comforts of home and the reliability of those we live with to help us through our hectic days. Most of us take having a comfortable home, food in the refrigerator, and others available to help us for granted, but there are plenty of people who lack some or all of these things.  Imagine being a pregnant woman without housing, food, or emotional support.  How would you manage?  We live in a society that speaks often about the importance of options, but how many options does a pregnant woman without resources have?
St. Gianna's Place will offer much-needed alternatives to underserved pregnant women in our community. We are moving closer to providing them and their babies with a safe and welcoming home, job and life skills training, and emotional support.  Our program will nurture and build-up women who have lost hope, renewing their self-confidence and independence as they learn necessary skills to be strong and productive members of the community.
As Christians, we are obligated to help the most vulnerable among us, and pregnant women in need and their babies definitely fall into this category.  We must give all of God's children a chance to live lives that glorify Him.  Scripture tells us that when we help the least among us, we are actually helping Jesus Christ, for He lives in each of us.
We at St. Gianna's Place humbly ask for your support.  Your prayers and financial contributions are appreciated more than you know.  We also need volunteers.  Please check out the Volunteer sub tab or the Fundraising sub tab under Get Involved on our website menu for ways that you can use your time and talent to help pregnant women in need and their babies.
August Blog
The Wisdom, Joy, and Accomplishment of Fearing Not
As Christians, we are blessed to know Jesus as our Savior. He came to live among us, to teach us, and ultimately, to save us.  He is the greatest gift that God could give.  One of Jesus' main admonitions is "fear not," yet so many of us worry incessantly about things we can and can't control.  If God's own son is telling us not to worry, then why are so many of us afraid?  Matthew 6:28-30 asks the following:
"And why do you worry about clothes? Consider how the lilies of the field grow: They do not labor or spin.  Yet I tell you that not even Solomon in all his glory was adorned like one of these.  If that is how God clothes the grass of the field, which is here today and tomorrow is thrown into the furnace, will He not much more clothe you…?"
Scripture is clear that we are supposed to give our concerns to God and leave them in His hands.  That way, we can go about our lives doing what God has created us to accomplish with a light and faithful heart.  And although this isn't easy to master, when we do live our lives in this way, our faith grows and we give witness to God's work in our own lives and in the lives of those we touch.
This truth has come to life as St. Gianna's Place has grown from a dream held in the hearts of four women to a joyful ministry, soon to bring comfort and hope to pregnant women in crisis and their babies.  When our founding board members heard God's call to open St. Gianna's Place, they answered, even though they had no idea how they would accomplish this truly "God-sized" dream.  They trusted God, taking one step at a time toward their shared vision.  Each time they moved forward, God provided.  As our board and volunteer base has grown, so have our supporters and donors.  We have put our concerns in God's hands and God has guided St. Gianna's Place.  We have now reached 75% of our fundraising goal!
We are excited, appreciative, and truly humbled to see God working to bring St. Gianna's Place to fruition.  We thank you for hearing the Father's call and donating your time, talent, and treasure to St. Gianna's Place.  We are grateful, and pray that God will bless your dreams in the way that he has blessed ours.
July Blog
Discerning God's Will
This month we will take a look at God's Will in our lives and how to best follow it.  We're so used to saying and hearing things like "it's God's Will," or "if God wills it," that we often don't stop to think about what it really means.  In fact, it has become a sort of throw away comment in conversation; a phrase we say when we can't explain something, or even worse, when we don't know what else to say.  But God's Will is very important because it is what God, the creator of the entire universe and everything in it, wants.  When you think about it from that perspective, it takes on a more serious meaning.  God's Will is the way that everything should be according to His vision of creation. Stop and think about that for just a minute.  It's daunting, especially when we realize that we have a part in carrying that vision out.
How often does our will align with God's Will?  It's a tough question to answer and different for everyone at different times.  One of the greatest gifts that God gives us is free will.  We're not simply pawns that God moves around according to His desire, but thinking and feeling individuals that have autonomy over our lives.  We are free to choose our own paths and make our own decisions, but we are also responsible for the consequences that come along with the choices we make.
As we grow in faith, it becomes clear that God's Will is always the best path, the way that will lead us to true peace and joy.  When we live in God's Will we are on our best path for ourselves and for others.  But it isn't always the easiest to do or even easy to know.  For many, discerning God's Will is the hardest part of executing it. Fortunately, God has given us many tools that we can use to figure out what He wants us to do.
The first of these tools is prayer.  Prayer is a dialogue with God.  Jesus gave us the Lord's Prayer during his public ministry, and it actually says "Your will be done" right in the middle of it.  Every time we pray the "Our Father" we are asking God to accomplish His Will in our lives and in the world.  Of course, we can also directly ask God to tell us what He wants us to do, but that's the easy part.  We then have to pay attention and really listen to hear His response.  If we want to accurately hear God, we have to examine our consciences and look at how our behavior stacks up against what we know to be right, logical, and for our own good and for the good of others.  After we've done this, we have to be quiet and let God speak to our hearts and minds.
Another important tool in discerning God's Will is the Bible.  Scripture gives us clear instruction on how to live.  It doesn't just tell us to do what is morally correct, it also tells us to do what is sensible.  We are to act justly and intelligently, looking out for our own well-being and that of others.  Between the Ten Commandments, the Book of Wisdom, and the Gospels, we have countless examples that can help us make good decisions that are most likely aligned with God's Will.
The last way to discern God's Will that we will discuss here is dialogue with others who are also striving to live in God's will.  Our personal community of believers can offer sound advice about living a faith-filled and God-centered life.  Others can sometimes see a situation more clearly from the outside than we can see ourselves.  Cultivating a circle of friends who also want to live out the Gospel message can be a big help in living our best lives.
Thank you for your support of St. Gianna's Place and for being part of our inner circle as we work toward opening our doors to help pregnant women in need and their babies. Your faithfulness to this ministry is bringing about God's will in our community and we are grateful that you are walking this path with us.
June Blog
The Promises of the Beatitudes
As we enter into the summer months, God reveals himself to us through the lush beauty that surrounds us. The abundance of creation is never more obvious than at the beginning of summer when trees are full with green leaves, and brightly colored flowers adorn gardens. It is the fulfillment of God's promise that even though the winter looked dormant, He was still at work, preparing the bounty of summer.
It's no secret that winter in the northeastern part of the United States is cold, dark, and barren. And although the beauty of freshly fallen snow is breathtaking and the winter sunshine can be almost blinding, winter inherently brings with it a longing for the vitality of summer. It is a time of waiting, and although we may complain about winter's harshness, we know that it will eventually give way to summer's warmth.
As human beings, we go through the same types of cycles. It is sometimes hard to see God at work in our lives. During these times, we must rely on our faith to know that God is with us and that His plan is intact. When we are in a waiting period, when we feel dormant, it is faith that carries us through winter into summer.
During the Sermon on the Mount, Jesus reassured us that God was always at work in our lives when he graced us with the Beatitudes. He told us:
Blessed are the poor in spirit, for theirs is the kingdom of heaven.
Blessed are those who mourn, for they shall be comforted.
Blessed are the meek, for they shall inherit the earth.
Blessed are those who hunger and thirst for righteousness, for they shall be satisfied.
Blessed are the merciful, for they shall receive mercy.
Blessed are the pure in heart, for they shall see God.
Blessed are the peacemakers, for they shall be called sons of God.
Blessed are those who are persecuted for righteousness sake, for theirs is the kingdom of heaven.
            Matthew 5:3-10
The beatitudes promise us that God knows when we are waiting in faith and doing the right thing when it is difficult. He calls us blessed and promises a reward. And we know through the Bible, through nature, and through the presence of the Holy Spirit, that God keeps his promises.
St. Gianna's Place is in a waiting period right now as well, but because of the faith of our generous donors, we are getting closer to opening our doors. Although this isn't a period of dormancy, we are still preparing, following God's lead as His hand guides our Board of Directors. As always, we ask for your prayers and continued support as we wait in faith, confident of God's perfect timing to bring about His promise of St. Gianna's Place.
May Blog
Pentecost and the Fruits of the Spirit
As we enter the month of May, we remain in the Easter season, still celebrating the Resurrection of Jesus. The Easter season begins on Easter Sunday and continues for 50 days, culminating on Pentecost Sunday. Although Easter is the most important feast day of the liturgical year for Christians, without Pentecost Sunday, we might have never found out that Easter even happened.
The disciples of Jesus scattered after the crucifixion. They feared for their lives, so they went into hiding. The apostles, those who had been with Jesus daily for the three years of his public ministry, mostly stayed together, but they too were in hiding. The apostles, and some disciples, were fortunate enough to have encounters with Jesus after the resurrection, which certainly boosted their faith. However, even after these encounters, they were still too afraid to share the Good News of the resurrection with anyone outside the community of believers. Without the testimony of those who had seen the risen Christ, future generations would never know about the great miracle of Easter Sunday.
But God, well acquainted with the flaws of humanity, knew that once Jesus ascended back to Him on Ascension Thursday, that his disciples would need help if they were to share the Gospel with the world. That help, the Paraclete or Holy Spirit, descended upon them while they were in a locked room with other believers on the day we know now as Pentecost Sunday. As they received the Holy Spirit, they were unable to keep the Good News to themselves. The Word of God burned so within them that they had to share it. That very day, Jesus' disciples left the locked room and began proclaiming the Gospel throughout Jerusalem, and as time went on, throughout the world.
The Holy Spirit will do the same thing for us if we let it. We all have gifts, wisdom, dreams, and eternal truths within us that God wants us to cultivate and share with others. Sometimes it's difficult to do so because of our own insecurities. But our mission, our purpose is to share what God has entrusted to us with others. We all have a piece of God within us that the world needs to be complete. If we aren't strong or brave enough to share this, the Holy Spirit will help us, just as it helped the disciples over 2000 years ago.
St. Gianna's Place is the cultivation of a God-given dream. It is a mission that has brought the time, talent, treasure, and conviction of so many together to achieve a common goal. We thank you for your role in this as we move closer to opening our doors to provide a safe harbor for pregnant women in need and their babies. No matter what your part in this mission is, we thank you from the bottom of our hearts. We humbly ask that you continue to do whatever you can, in whatever way the Holy Spirit calls you, to help us open our doors as soon as possible. We need prayers, time, talent, and treasure to make St. Gianna's Place a reality, and we are grateful for whatever you can provide.
We wish you and yours a blessed Pentecost and pray that the fruits of the Spirit give you the grace to accomplish your God-given mission.
April 2018
Happy Easter!
As April begins, we celebrate the Resurrection of Christ and the victory He won for all of us on the cross. Six weeks of Lenten sacrifice had led us to the Easter Triduum, and we rejoice in our salvation. We all know that none of us are capable of earning salvation on our own. We are only saved through the grace of God, given to us through Jesus' sacrifice. This grace compels us to share God's love with those around us. The spiritual and corporal works of mercy provide a beautiful framework for showing the Father's love to others.
We often hear about the corporal works of mercy, which are as follow:
Feed the hungry.
Give drink to the thirsty.
Shelter the homeless.
Clothe the naked.
Visit the sick.
Bury the dead.
Give alms to the poor.
Jesus tells us that each time we help anyone in need, that we help Him. When we think about all that Jesus sacrificed for each of us, how can we not incorporate these works of mercy into our lives?
The spiritual works of mercy are lesser known, but equally as important:
Instruct
Advise
Console
Comfort
Forgive
Bear wrongs patiently.
Those in spiritual discomfort need help us much as those in physical discomfort. When we provide the spiritual works of mercy in a prayerful and Godly manner, we are also doing God's work by showing His love in our community.
As we enter in to the Easter season, please remember St. Gianna's Place in your prayers. If you would like to donate your time, talent, or treasure, please visit our volunteer, fundraising, or donate pages on this web site to learn about upcoming opportunities. Thank you for your ongoing support of St. Gianna's Place.
March 2018
As March dawns we find ourselves in the final third of winter, and almost to the middle of the Lenten season. From a physical point of view, the temperature is still cold and the days are sometimes dreary; from a spiritual point of view, we are somber, denying ourselves worldly pleasures in an effort to grow closer to God. And although this is a solemn time of waiting, we are hopeful because we can already see the changes that are on the horizon, a promise of what is to come. There is more daylight and less darkness as the early flowers of spring begin to pop through the soil. Our spiritual journey is less difficult than it was at the beginning of Lent because we are moving closer to our heavenly Father and closer to the great miracle of Easter. It is a time of stretching and growth as we anticipate the joy of the resurrection.
The blessing of a pregnancy is a similar journey. The baby growing in its mother's womb is gift from God to be protected and loved. With each passing week, the baby continually develops, and the mother's anticipation of meeting her child increases. The inward growth of the baby is marked by outward change in the mother, as they both prepare for the miracle of birth. By the last trimester, the mother is tired, but eager. There is fatigue and impatience, but there is also joy in the hope of what is to come.
St. Gianna's Place is experiencing the same thing. Our ministry is maturing as we are continually blessed with both physical and spiritual assistance. The financial contributions and donations of furniture, bedding, and baby items, combined with the prayers and fasts of many, are moving us closer and closer to opening our doors. Yes, we are still in a waiting period, but the promise of St. Gianna's Place is evident. We are eager and impatient, and we are joyful as we see God working through our donors and volunteers.
Christ died and rose again for all of us, and all of us are required to share the miracle of the resurrection by showing God's love to all, especially the most vulnerable. That is the purpose of St. Gianna's Place – to manifest the love of Christ by lifting up pregnant mothers in crisis who are longing for physical, emotional, and spiritual renewal. We are eager for the day when we will spread the joy of the Gospel to all who enter St. Gianna's Place. We are getting closer to the day when we welcome our first expectant mom, and we need your prayers and fasting as we continue to prepare. This Lent, we ask that you pray daily for St. Gianna's Place and perhaps consider a small fast as an offering, or an act of almsgiving for the continued growth of our ministry. Thank you for your ongoing support.
February 2018
This year, 2018, Ash Wednesday and Valentine's Day fall on the same date, February 14. This seems to be a bit of a paradox, since Valentine's Day is popularly viewed as a frivolous day to celebrate love and friendship and Ash Wednesday as a much more solemn day of fasting and sacrifice. However, upon further reflection, it seems that maybe these two days aren't as far apart in meaning as we might think.
Valentine's Day is festive and its most common symbol is a heart, representing love and friendship. Some people mark the holiday with heart or cupid decals on their windows or with wreaths on their front doors. School children bring heart shaped candy and cards to their classmates and teachers on Valentine's Day. They celebrate with parties in their classrooms and make crafts to bring home to their parents. It's a day of giving and celebrating relationships even for the youngest in society. As we get a little bit older, Valentine's Day becomes a celebration of romantic love. Flowers and expensive chocolate, dinner reservations at fancy restaurants, and jewelry replace pastel colored message hearts and packets of cards illustrated with popular cartoon characters. And as we get older still, Valentine's Day becomes a day to commemorate family love with a special family dinner or dessert, and cards and small gifts exchanged between parents and children. The common denominator between all of this, the underlying theme, is love and affection.
Ash Wednesday is also about love, although we have to look a little harder to see it. Whereas Valentine's Day is represented by a bright colored, festive heart, Ash Wednesday is represented by gray and gritty ashes. One is viewed as a symbol of love, the other as a symbol of death. Ash Wednesday is the beginning of Lent, a somber time of reflection when we are tasked with examining our lives and removing anything that is keeping us from God's will. Lent is a time to "die to ourselves" by working to remove anything that is blocking God in our lives. Yes, these six weeks can be difficult because we are denying ourselves things that we depend on for temporary satisfaction, but when Easter arrives we are ready to fully accept God's will, His perfect love, in our lives.
Both Valentine's Day and Ash Wednesday are important and each has their place. Valentine's Day is fun. It's a celebration of love, friendship, and family, which are some of God's greatest gifts. Ash Wednesday is a day of reflection to center ourselves and make sure that we love God and the important people in our lives in the way that God intends.
Real, lasting love goes far beyond the temporary satisfaction of romance, a party, or a fancy dinner. This love, rooted in an authentic desire for the well-being of another, is unselfish, unwavering, and involves a lot of sacrifice. This type of unconditional love is well represented by the love a mother has for her child. It is a reflection of God's love for each of us, as we are His children. As our heavenly Father is always there for us, He asks that we support each other.   That is the goal of St. Gianna's Place. Our mission is to support mothers and their babies so that they are able to pursue a life that glorifies God. He has a plan and purpose for each of us, and we can only reach our full potential if we fulfill it. At St. Gianna's Place, we will help pregnant women in need and their babies to reach their full potentials. We will show them God's unconditional love by providing a safe home, job and life skills training, and emotional support. As Christians, it is part of our purpose to help others find theirs.
At this time in the state of New Hampshire, there are only two other homes dedicated solely to pregnant women in crisis and their babies. The need for another home is great. Will you consider donating to St. Gianna's Place in honor of your Valentine? Or perhaps you will consider a Lenten sacrifice that will benefit St. Gianna's Place? This can be in the form of daily prayer or as a financial donation. Both are very much needed as we work to open our doors to show God's love to the most vulnerable among us.
We wish you a Happy Valentine's Day and a Blessed Ash Wednesday. We pray that God's love will be obvious to you in the commemoration of both of these special days and in the Lenten season that follows.
January 2018
2018 has arrived, bringing with it resolutions, hopes and dreams, and a chance to be more. The beginning of a new year signals a new beginning, a fresh start. It's a reset of sorts that invites us to set goals and examine new opportunities. It pulls us out of our comfort zones and offers the chance to reach a little higher, to be a little better. This age old demarcation of time is significant across all cultures, underscoring that human beings have an innate need for renewal. We for long for freshness in the old and, at times, we need to embrace something new.
Fortunately, New Year's Day isn't the only time that we have opportunity for renewal. In life there are endless examples of new beginnings such as a family move, reconciliation between friends, a career change, even a new school year. In reality, each day provides the freshness we crave. These new beginnings are gifts from God, allowing us to renew the old, develop what is new, and sometimes just begin again.
New beginnings are vital to mankind, and the greatest of all new beginnings is the start of life, the gift of a child. A new life literally embodies a fresh start. Each one carries a Divine promise, a God-given purpose. All babies hold within them the potential to positively impact our world. They are the very manifestation of God's renewal. The mothers of these children are the vessels for this renewal, and they need care and support to navigate through their pregnancies and to raise their children to be all that God intends them to be. St. Gianna's Place will be a safe harbor for women who don't have this care and support. By offering them a home, job and life skills training, and emotional support, we hope to provide expectant mothers with a fresh start as they prepare to give birth, the greatest of all new beginnings.
The St. Gianna's Place team wishes you a Happy New Year. As 2018 unfolds, please keep St. Gianna's Place in your prayers, asking God to bless this ministry of fresh starts, renewals, and new beginnings.
December 2017
As Advent approaches, our thoughts are drawn to the baby Jesus and his humble birth in a barn with only a manger, a feeding trough for livestock, as a crib. Growing up, some of us may remember thinking that the innkeeper in Bethlehem was the worst kind of villain for not letting our Savior have a room. How could he let the Son of God be born outdoors with only the presence of cows and a donkey to provide any heat?
The Holy Family could not find an available room anywhere in Bethlehem. They were turned away from a few places before this innkeeper took pity on them and allowed them to stay in his barn. He had no idea that the pregnant girl on the donkey was carrying God's son, and besides that, his inn was already filled to capacity. The innkeeper gave what little he had to Jesus, Mary, and Joseph, and as it turned out, it was just enough.
This is a great lesson for all of us at Christmas and throughout the year. God only asks us to do what we can. If what we have to offer isn't enough, we can trust Him to make up the difference. When we believe that God is working in our lives, we know that He will bless and multiply our offering. We are sinners, requiring a savior, which is why Jesus came to live among us. God knows our nature and loves us anyway. When we fall short, Jesus is there to pick us up and get us where we need to be.
The lowly surroundings where Jesus was born belie the glory of his resurrection 33 years later, the event which gives us eternal life. Although the great star marking the location of Christ's birth and the gifts he received from the three kings highlight the wonder of his birth, he came into this world simply. And simplicity is what God asks of us. He only asks us to trust Him, believe in His Son, and to do what we can to help others. During this season of wonder and light, may we make Christ's presence known as we do whatever we can to welcome the stranger, shelter the homeless, and feed the poor.
St. Gianna's Place's mission embodies all of that and more. We will welcome pregnant women who need a home. We will offer them job and life skills training so they can better their lives. But most importantly, we will show them God's love so they will look to the future with a renewed sense of self-worth and hope for themselves and for their children.   During this Christmas season, please keep St. Gianna's Place in your prayers. We thank you for your ongoing financial support as we grow ever closer to opening our doors and helping some of the most vulnerable in our community.
All of us at St. Gianna's Place wish you and yours a Blessed Advent and a Merry Christmas. May the Peace of Christ be with you at this time and throughout the coming year.
November 2017
Welcome to the St. Gianna's Place monthly blog. Each month we will write about a life-affirming topic that highlights God's love for each of us. Since this is our inaugural installment, we will focus on the first gift that God gives to everyone: the gift of life.
We believe that all people are created in the image and likeness of God, and we believe that this makes human life sacred. Since life is a gift from God, it is to be cherished, protected, and upheld. It is up to all of us to honor this sacred gift by helping to protect the dignity of all human life.
The most vulnerable of human life are the unborn, and in the case of an unplanned pregnancy, the mothers of these babies may also be at risk. When mothers experiencing an unintended pregnancy are young and poor, it is more likely that they will not have adequate pre-natal care, nor the necessary financial and emotional support needed to raise their child in a positive environment.   Sometimes, these women are homeless, or likely to become homeless before they give birth.  None of these circumstances reflect the sanctity or support the dignity of human life.
Fortunately, God's love always shows a way forward. In New Hampshire there are currently two homes solely dedicated to pregnant women and their babies. However, in a state with a population of over 1.3 million, there is a need for more housing like this. St. Gianna's Place will help fill the void. Case studies show that group living that provides job and life skills training, counseling, and emotional support can lift pregnant women in crisis and their babies into a life of success, hope, and joy. They learn important parenting skills and are much more likely to secure a job. Below is a testimonial from a woman who once lived at New Generations in Greenland, NH: 
"New Gen is the reason I am where I am. Your services and support got me through a rough patch and helped me with school, and more importantly, encouraged me to be the best I could be. 
I have been asked why I so openly admit to having lived "in a shelter" my response is always something of this sort. 
 'New gen is not the type of shelter you imagine, they CARE, they help with WAY more than just a place to live. And more importantly they don't JUDGE. They open their hearts to help, ultimately you get more than just a place to live. They help you get a life.'"
St. Gianna's Place will be a home where God's love is manifested and the human dignity of both mother and child is upheld. In addition to job and life skills training, our program will foster self-respect and independence, teach about God's divine purpose and plan for every person, and bring a renewed sense self-worth to these mothers through community involvement, service to others, and by the love and respect shown to them and their child. Please keep this important ministry in your prayers.