Saint Gianna Beretta Molla, Patron Saint of Doctors, Mothers, and Unborn Children
October 4, 1922 – April 28, 1962
Feast Day – April 28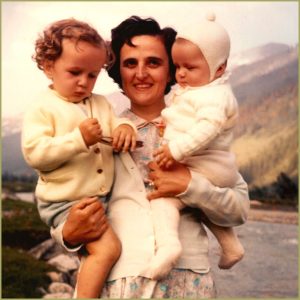 Gianna Francesca Beretta was born in Magenta, Italy in 1922, the tenth of thirteen children in her family. Gianna loved life.  Fashion, music, art, skiing and nature were her passions.  A woman of great faith, her life was guided by joyful trust in God's Providence and strong belief in the power of prayer.   She was very active in Catholic Action and worked with the St. Vincent de Paul Society to help the less fortunate.  She had tremendous compassion for children, the elderly , and the poor.  This compassion led her to medical school.  In 1942, Gianna began her study of medicine in Milan, going on to open a practice specializing in pediatrics.
In December 1954, Gianna met Pietro Molla, an engineer who worked in her office, and they married in September 1955.  Before marrying, she spoke to her future husband about their divine mission to collaborate with God in creation.  The couple had 3 children, after which Gianna suffered two miscarriages. During her next pregnancy, Gianna was found to have a tumor on her uterus.  She refused a hysterectomy that would have aborted her child.  Instead, she opted for a riskier surgery to remove the tumor in an attempt to save the baby.
On April 21, 1962, Good Friday of that year, Gianna went to the hospital to deliver her baby.  Gianna was quite clear about her wishes, expressing to her family, "This time it will be a difficult delivery, and they may have to save one or the other — I want them to save my baby."  Gianna's daughter and namesake, Gianna Emanuela, was successfully delivered.  However, mother Gianna died of septic peritonitis 7 days after the birth.
On May 16, 2004, Pope John Paul canonized Gianna Beretta Molla as a modern saint.  Her husband, Pietro, and their youngest child, Gianna, were present at the canonization ceremony.
St. Gianna is the ideal protectress of our home for pregnant women in need.  She epitomizes authentic feminism because of the extraordinary way she fulfilled her professional and domestic duties.   She was a successful pediatrician, a devoted wife, and a loving mother.
St. Gianna is an inspiring role model for expectant women because of her sacrificial love for her unborn child.   Mothers in crisis pregnancies can connect with her because she also confronted similar fear and anguish during her life threatening pregnancy.  She offers profound words of wisdom and consolation, saying: "You cannot love without suffering and you cannot suffer without love."
May St. Gianna bless our ministry, for the honor and glory of God.